Kennedy Brooks finished up his athletic testing at Oklahoma's March 9th Pro Day. This gives us a complete physical profile to work from.
Physical Measurables
At 2.94 pounds per inch, Kennedy Brooks is pretty skinny for an NFL running back. He's proportionally built like Jamaal Williams or Tony Pollard.
He also isn't incredibly athletic. His best trait there is explosiveness. His vertical leap and broad jump performances give him a 120.4 (62nd-percentile among qualified running backs) Burst Score. Outside of that, and a decent three-cone time, he's below-average across the board.
Based on all of the above measurables, his most similar historical prospects are:
Production Profile
Kennedy Brooks had an interesting career at Oklahoma. He spent five years at school but only played football in three of them. He ran for over 1,000 yards in each of those three seasons. But he wasn't a large enough part of the offense to ever have a true breakout season:

It's worth considering that the teams Brooks was part of were very good. I use Bill Connolly's S&P+ rating system to quantify team quality for the purposes of contextualizing player production. Oklahoma was consistently about an 80th-percentile squad during Brooks' career. For players like him who didn't break out in college, I give credit for a "breakout" season in the year following their final college season. He never posted the market share numbers necessary to truly break out. But he was playing on quality teams with other talented players to share the ball with. Trey Sermon, Rhamondre Stevenson, and CeeDee Lamb all deserve touches too. It's harder to post high market share numbers at Oklahoma than it would be at, say, UTEP. The production of players should be considered in the context of the schools that they played at.
Given the seasonal Dominator Ratings he posted and the quality of teams he played for, the following historical prospects have the most similar college production profiles: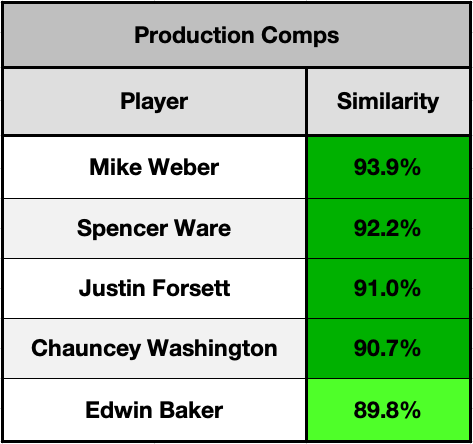 Overall, Brooks was a solid college player whose career wasn't especially impressive relative to guys who eventually reach the NFL.
Rushing Efficiency
I wrote a full breakdown on Kennedy Brooks' rushing efficiency numbers that can be found here. But here is an overview of his profile:

Essentially, Brooks was fairly efficient relative to talented teammates. Even when considering that he saw lighter average box counts than they did. He also converted chunk gains into breakaway runs at a very high clip. And had an impressive rate of missed tackles forced per rushing attempt. He didn't test all that well athletically. But he was a well-rounded and effective runner of the football in college.
Given those metrics and his physical profile, the most similar historical prospects to him from a "pure runner" perspective are: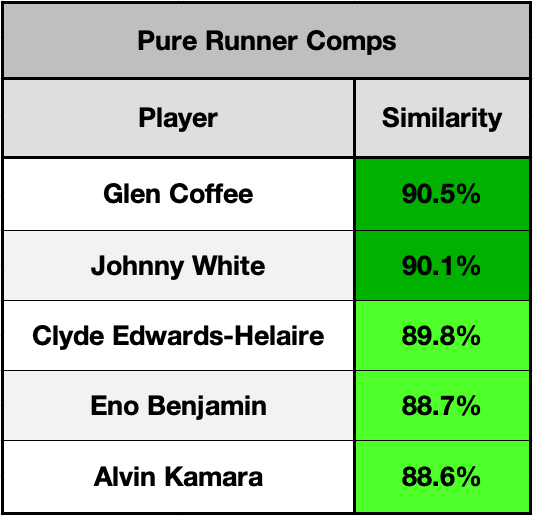 Those are some solid names near the top of a comps list for a guy who is not getting much buzz as a sleeper in the running back class. We've seen guys with his athletic profile succeed before. And his ability to run the ball effectively should not be in question.
Receiving Chops
What should be in question is Kennedy Brooks' ability to contribute in the passing game. Because he didn't show much there in college:
There almost doesn't exist an objective measure by which he was even a decent receiver in college. He was not very involved as a pass-catcher. He was deployed almost exclusively on simple routes out of the backfield. And he wasn't efficient when the ball was thrown his way. His 59th-percentile Catch Rate is fine. But when he's being targeted a full yard behind the line of scrimmage, is it really impressive? And even the low overall efficiency he's posting is largely fueled by what he's doing after the catch. That's nice as a ball-carrier. And we already know he's pretty good there. But it doesn't really speak well to his ability as an actual receiver.
Given the above metrics, the following players had the most similar receiving profiles as college prospects: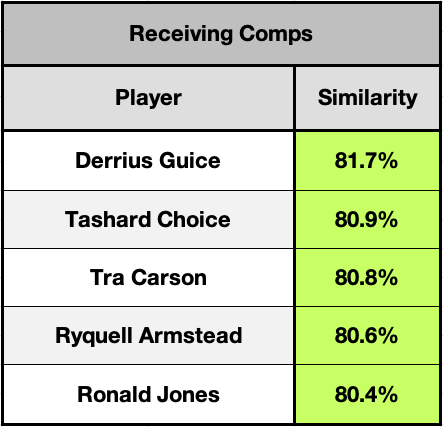 Ronald Jones is a fine player, as was Derrius Guice. But none of these guys have really ever been positive contributors in NFL passing attacks. I'd anticipate that Brooks has a similarly tough time finding a role as a pass-catcher.
Overall Profile
As a slightly undersized back with a relatively thin frame and not many receiving chops to speak of, Kennedy Brooks is a bit of a tweener. By "tweener," I mean that he doesn't fit cleanly into a traditional role as a between-the-tackles grinder or as a satellite back. Ideally, our running back prospects will do both. But we at least want guys who can step into one aspect of the existing framework of how backs are used in the NFL.
It doesn't matter so much that James White isn't big or especially skilled as a runner considering his receiving prowess makes him well-suited to a high-volume satellite back role. Conversely, Jordan Howard has enough size and ability as a pure runner that he earns heavy touches on the ground despite offering very little as a receiver. Guys who are both undersized and underwhelming pass-catchers have a hard time getting work in the league. Even if they are good runners. This phenomenon is evidenced by the difficulty that talented players like LaMichael James, Bryce Love, Ronald Jones, and Tevin Coleman have had in living up to their impressive careers as dynamic college runners.
I believe that Brooks is a good runner of the football with limitations that will likely keep him from finding a solid role in the NFL. Given his complete profile, here are the historical players who were most similar as prospects: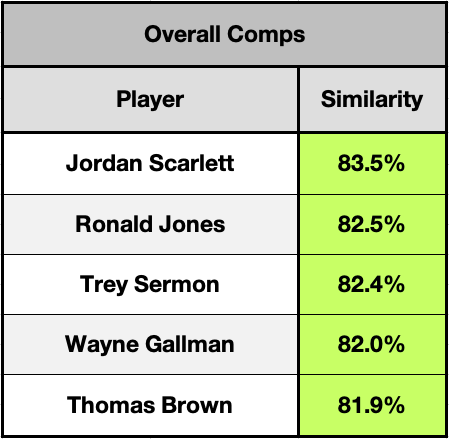 Ronald Jones is probably Brooks' ceiling. But I think the more realistic scenario is that he ends up as a Wayne Gallman-level backup who contributes 50 carries a year and only sees minor fantasy relevance in the event of an injury to a starter. He's a decent runner, but guys who are decent runners and don't do much else are a dime a dozen in the NFL.