It's been a while since the Florida Gators have had a quarterback stable the likes of Cam Newton (13), Tim Tebow (15), and John Brantley IV (12). Also pictured: the great Urban Meyers.
There hasn't been much to celebrate for Florida fans after Urban Meyer abruptly left, and the devy community has taken notice. But things have changed for Gator Nation with the arrival of Dan Mullen and his staff. College fans and devy players alike can take notice once more. In addition to the influx of talent with recent recruiting classes, there is a significant amount of vacated production, and several players ready to shine.
Quarterback
The quarterback position has plagued the Gators for years — and it's been one to avoid by devy enthusiasts.  Kyle Trask is someone who has been touted to watch for after last season, but I don't see it.  I love Emory Jones and think he is going to be a great college quarterback, but his slow development in Mullen's scheme raises questions about him as a devy prospect to own right now. (As a Gators fan, I hope I am wrong because Jones has a cannon for an arm and the ability to move.) There is one quarterback that devy players can get in on early before his meteoric rise and that's Anthony Richardson.
The NFL is changing. Quarterbacks with Konami code traits are becoming the norm, not the exception. I have played in devy leagues since 2005. I still remember when recruiting was all done by magazine.  My favorite QB recruit was Cam Newton and no player has come near his package of skills. Until now. Richardson (one of the stars of Netflix's "QB1: Beyond the Lights," posted a 4.50-second 40-yard dash time and a 34.1″ vertical leap at 6'4″ and 222 pounds. He had the longest throw at The Opening while competing in the Elite 11 quarterback competition for high school quarterbacks.
Monster testing numbers for Eastside (Fla.) QB Anthony Richardson at today's #TheOpening Combine in Orlando include 4.50 40 and 34.1" vertical jump at 6'4", 222 lbs. Competing for #Elite11 berth at tomorrow's regional🏈🎯 pic.twitter.com/8Acfg2VSMt

— Brian Stumpf (@Stumpf_Brian) February 23, 2019
https://platform.twitter.com/widgets.js
Unlike Newton's, some people are not immediately wowed when looking at Richardson's tape. But there are similar traits. "AR" (as he is known by Gators fans) carried a team that had a terrible offensive line and not many weapons. His inaccuracies can easily be dispelled. When watching his games, it is evident that the O-line prevented Richardson from making throws from a clean pocket. On and off the field, though, Richardson has all the tools you want in today's quarterback.
Richardson is still raw but has elite athleticism and strong leadership skills. While he needs to work on his accuracy, his arm strength cannot be matched by many others. He also has the capability to make plays with his legs via designed runs or extending plays.
Richardson enrolled at UF at the end of 2019  and has turned heads during bowl practices with veteran players who are now moving on to the NFL.  He will be brought along slowly like every other Dan Mullen quarterback and likely won't see the field as a starter until 2022.  However, this gives devy players the advantage to get a player like Newton before anyone else knows who he is.
Running Back
With the loss of Lamical Perine, Florida loses 40% of its rushing market share. Anyone who follows me knows that I am a huge Perine fan. His loss is more than just rushing yards total, as Perine was the "do everything" back for the Gators. The good news is the Gators have a stable of backs ready to come in, most notably Dameon Pierce. Pierce, who broke Hershel Walker's record for most rushing yards in Georgia high school football history, initially gave me cause for concern because his stats did not indicate that he was a great pass catcher. However, the more I dove into his high school tape, the more I found that was not the case. It became even more evident at UF, where Mullen used Pierce as a wideout several times including during the spring game.
Pierce was viewed as a solid prospect coming out of high school, but he has fallen off in his two years at Florida as he has failed to break out. On top of that, the Gators just brought in 5-star recruit Lorenzo Lingard. It would be a mistake to categorize Pierce as a failure, though. Mullen has always been a coach who likes to give the bulk of the carries to one guy, if possible, and he adapts his scheme to what his players do best. Last year, the Gators could not run the ball due to an ineffective offensive line, so Mullen employed an air raid-type system, something he did not want to do. Mullen now has two years of strong offensive line recruits who are ready to strengthen his run-dependent system. Pierce showed last year that if he is given a little daylight, he has the athleticism to take it to the house at any time.
http://www.espn.com/core/video/iframe?id=27880222&endcard=false
The addition of Lingard may scare some off because of his 5-star status but his injuries, combined with his inability to see the field on a Miami team that desperately needed playmakers, is telling. I believe the two backs to watch as secondary workhorses are Malik Davis and Nay'Quan Wright. As an 18-year old freshman, Davis averaged 6.7 yards per attempt to go along with a 16% dominator rating, despite missing five games due to a broken foot. Prior to his injury, he accounted for 25% of his team's total offense. Fumbles, especially in critical situations, got him in the doghouse early on in 2019. However, Davis has the measurables and the talent to play in the NFL. His biggest issue will be opportunity and how, if at all, his injuries (he also had a severe knee injury the year before) will affect his athleticism.
Meanwhile, Wright is an immensely talented back that I have comped to Duke Johnson. He dominated top high school competition in Florida as a sophomore before sustaining a knee injury that cost him his entire junior year. Despite having a solid senior season, Wright never regained his national status by the recruiting services. He will get his touches, but he is a year away from meaningful contributions and we will need to wait and see how things shake out.
One thing that could throw a wrench into the outlook for Davis, Wright, and Lingard is whether Zach Evans ends up in Florida. Before the COVID-19 lock-down, there were heavy rumors that Evans (who has a history of questionable mistakes) would end up a Gator as he has a strong relationship with assistant coach Tim Brewster. Even if those rumors become true, I think Pierce is still a safe buy because Evans will likely not get up to speed quickly enough. The rest of the running backs, however, would descend the roster if Evans becomes a Gator and stays out of trouble.
RB Dameon Pierce (27) has the athleticism to take it to the house at any time. Photo courtesy Sports Illustrated.

Wide Receiver and Tight End
Florida has lost 55% of its 2019 receiving yardage share.  Thirty-six percent of those remaining yards will come from three players: Kyle Pitts, Trevon Grimes, and Jacob Copeland. At 6'6″ and 239 pounds, Pitts is a tight end I have hyped since he was first recruited by Florida. He has lived up to those expectations. After a pedestrian freshman season, he exploded onto the scene as Trask's primary target in 2019, with 54 receptions for 649 yards. In doing so, his devy ADP has risen from undrafted in most leagues to No. 46 in Superflex mocks (h/t to Devy Watch).
Pitts' skillset and style of play are what fantasy players and NFL general managers are looking for in a tight end. His blocking still needs work, but he can play every down and is a mismatch for anyone covering him on defense. Generally, I am not a fan of drafting tight ends in devy because most take three years to even provide a return once they are drafted, but Pitts is one of the exceptions who I expect to contribute his rookie year. He is well worth his ADP.
Grimes was a 5-star recruit in 2016 who committed to Ohio State and played in two games before leaving the team for personal reasons. He transferred to Florida and has quietly had solid back-to-back seasons (14.0 and 14.9 yards per catch) on a team loaded with wideouts. Grimes debated entering the draft early but smartly came back for another season with the Gators. I expect him to be the go-to guy for the Gators in 2020 and put up the numbers you expect from an alpha receiver.
Grimes will have fierce competition for the number one receiver spot from Copeland, who was one of my top receiving recruits in 2018. Copeland is one hell of an athlete who can play any of the receiving positions. He was recruited by all the big dogs in 2018. He got derailed by injury his freshman year and then had numerous upperclassmen in front of him in 2019. Many will say talent always wins out, but not in a Mullen offense that values experience and blocking, two issues that concern many fantasy players. What is evident when Copeland hits the field is his talent and athleticism. His physicality, build, and body control make him a natural red-zone weapon. Copeland has waited his turn, and even in a deep 2021 draft, I expect him to leave early. I'm confident he'll end up as one of the top wideouts in the class.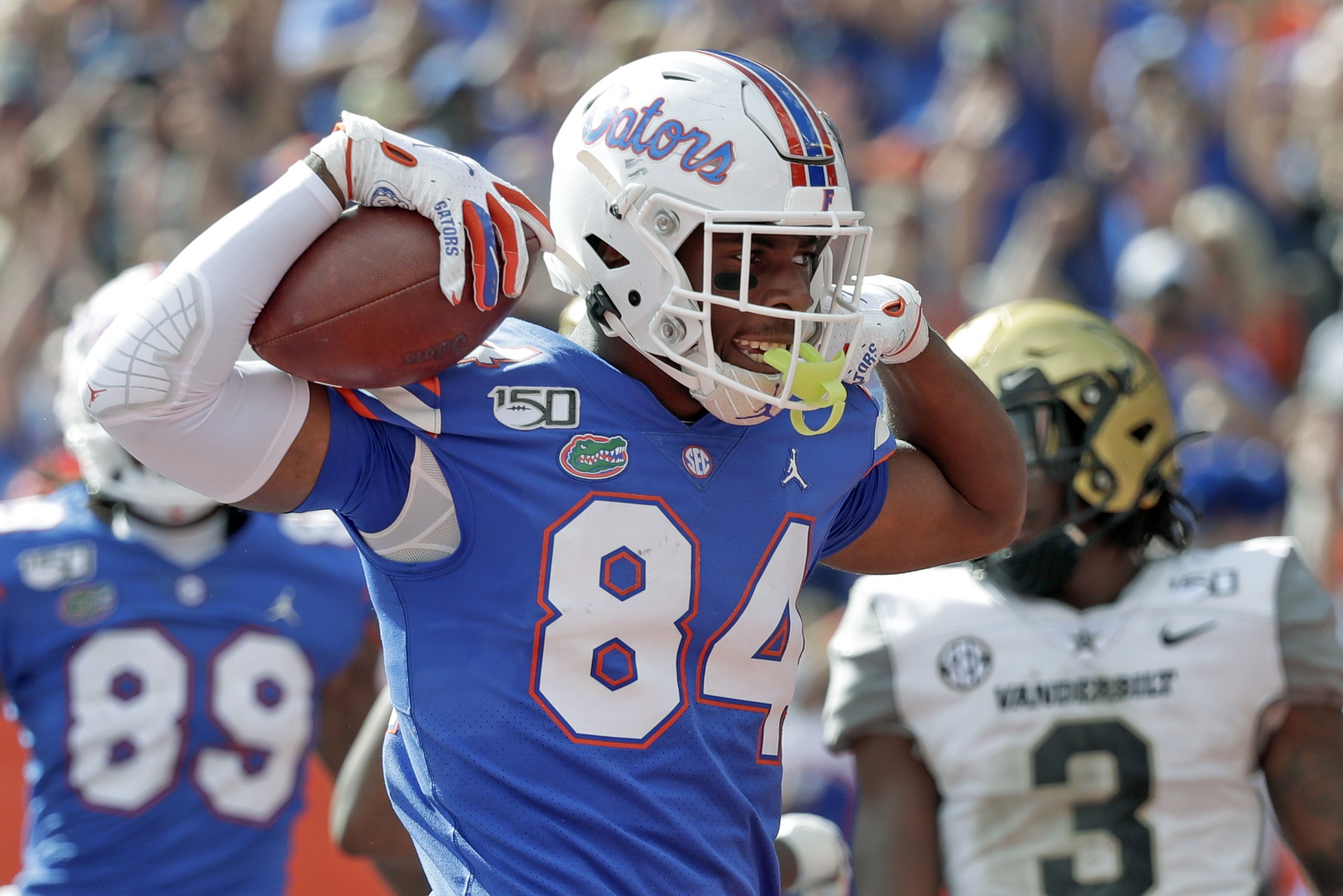 TE Kyle Pitts is a mismatch for anyone covering him on defense and is well worth his ADP. Photo courtesy AP News.
What about the remaining targets? Well, Florida finally has the "good problem" of too many athletes at the wide receiver position. The Gators plucked former 5-star recruit Justin Shorter out of the transfer portal. It is unknown if he will have immediate eligibility, but the Gators feel confident he will. I was very high on Shorter coming out of high school, but he never flashed in a good situation at Penn State. There were rumors that his failure to flash was due to a lack of effort and complacency. The fact that Shorter decided to take a semester off instead of enrolling early at Florida has reinforced those rumors for me. The Gators hope he works out, but I am more focused on the last two classes.
Xavier Henderson is on my 2020 recruits Top 5 list and a player I recommend devy players target. He has the size you want (6'3″ and 180 pounds) and he runs great routes. He is also phenomenal after the catch. Two other guys to monitor are Ja'Markis Weston (6'3″ and 205 pounds) and Jaquavion Fraziars. Weston's national ranking suffered from his lack of ability to attend many football camps (he hails from Clewiston, Florida, population 7,500). He was only a three-star recruit and was not recruited by may of the larger schools. When asked about Weston's lack of national accolades, Mullen notoriously bashed the media and defended the fast, big-bodied receiver.
Fraziars is a four-star recruit who dominated the 2020 Under Armor High School All-American Game. Fraziars produced 40% of the receiving yards (630 yards) during his senior season at Donnellon High. The next best receiver on his team? 182 yards. Fraziars also averaged 20.3 yards per reception and his 12 receiving touchdowns represented 55% of his team's receiving touchdowns (10 more than his next-highest teammate). Keep in mind, Fraziars' opponents double-covered him a lot. He does need to work on his 40 time and his vertical leap, but it will come with the program at Florida. Right now, he is being overlooked by everyone.
For more high school and devy prospect analysis, follow me on Twitter @Admlewis.