Toledo's Bryant Koback was one of this year's most egregious Combine snubs. He gave a big middle finger to the league by blowing up his Pro Day:
Koback is a bit slim at nearly 5-11 and 209-pounds. But his athletic profile is quite robust. He was explosive, though perhaps not legitimately fast. He posted a 4.49 40-yard dash and notched the second-highest Burst Score in the class. His Agility Score comes in at the 60th-percentile. And he solidified his workout warrior status with a Bicep Bob Turbin-like showing on the bench.
Based on the above measurables, the following historical prospects are Koback's most similar from a purely physical standpoint: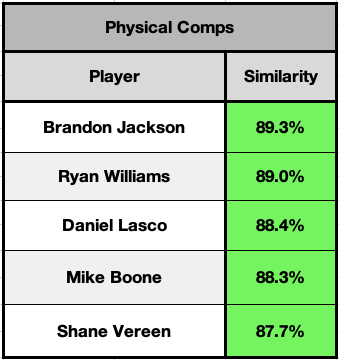 For a guy getting zero buzz in this running back class, this is a solid group of comps. Brandon Jackson and Shane Vereen both have NFL seasons with 800-plus scrimmage yards on their resumés. And Ryan Williams was a second-round pick who flamed out due to injuries.
Ignoring size, guys like David Johnson, James Robinson, Shonn Greene, and Nick Chubb are among his 10 closest athletic matches.
Production Profile
It was an interesting college journey for Bryant Koback. He initially committed to Kentucky before being a solid producer for some terrible Toledo teams:

Depending on how you calculate breakouts, he might get credit for having posted one in year three. But I've got him at year five. By the time he exploded for 1,700 scrimmage yards and 18 TDs in that fifth year, he had already posted two straight seasons with over 100 scrimmage yards per game. And three straight with at least 70 per game.
Given the seasonal Dominator Ratings he posted and the quality of teams that he played on, the following historical prospects had the most similar college production profiles:
None of these guys were no-doubt producers in college. But several have gone on to be solid NFL role players with circumstantial fantasy utility. Lurking just outside the top five of this comps list are guys like Darrell Henderson and Latavius Murray.
Rushing Efficiency
I wrote a full breakdown of Bryant Koback's rushing efficiency profile that can be found here. The following is a quick overview:

At first glance, his efficiency numbers are nothing to write home about. He was a high-volume guy who broke a lot of tackles on his way to looking fairly pedestrian relative to mediocre teammates.
A closer look, however, reveals that he was typically much better than these career numbers indicate. In a COVID-affected 2020 season in which Toledo only played a four-game schedule, he was simply awful from an efficiency standpoint. I'm not sure if he was playing injured. Or if COVID meant that he wasn't able to properly train or participate in an offseason program. But something happened resulting in him being a much worse player that season than he was in any other.
Rushing Efficiency Score
Below are the percentile ranks of Bryant Koback's yearly numbers in Box-Adjusted Efficiency Rating and Relative Success Rate. As well as what his career numbers would look like if we simply ignore 2020:
It's generally not sound process to pretend like a player's worst season didn't happen. I'm more willing to do that in this situation for two reasons. First, 2020 is an outlier when considered next to his above-average BAE Rating numbers from his other three seasons. Second, we're mining for upside here given that he's nowhere near the top of this running back class by consensus. He's a low probability play anyway. Why not hone in on the upside he displayed instead of writing him off because of one bad season?
What can't be ignored is that he never posted quality RSR numbers. Considering his testing numbers, he might be more athlete than pure runner. Posting quality overall efficiency (outside of 2020) despite not producing positive outcomes on his carries at an impressive rate.
Given his physical profile in combination with the above metrics, his most similar historical prospects from a "pure runner" perspective are:
To be clear, these comps were generated using his career numbers. Without subtracting his 2020 performance from the sample. Maurice Jones-Drew and LaDainian Tomlinson in the top-five runner comps means we're cooking with gas regardless.
Receiving Chops
Bryant Koback's biggest strength might be his ability as a pass-catcher:

He went from hauling in a combined 12 passes in two seasons as an underclassman to catching 24 in only six games in 2020 before adding another 30 in 2021.
He was both heavily involved and very efficient as a receiver. While his Catch Rate isn't great, he was targeted further downfield than the majority of running backs are. The degree of difficulty on his targets was simply higher than it is for these Tyler Allgeier-type checkdown vacuums with correspondingly high Catch Rates.
Given the above metrics, here are the historical prospects whose receiving profiles most closely resemble Koback's:
This list is sort of a strange conglomeration of different player types. Ryan Nall is a converted tight end. Najee Harris is a bellcow back with solid receiving chops. Tyler Ervin and Brandon Bolden have both been useful utility players for their roles in the NFL. More traditional satellite back types like J.J. Taylor, Darren Sproles, and John Kelly show up just outside the top 10 of his receiving comps.
Overall Profile
I really don't understand why Bryant Koback isn't getting buzz in this rookie class. The dynasty and prospecting communities at large are quick to hype guys like D'Vonte Price, Isiah Pacheco, and Sincere McCormick. Though none of them check as many boxes as Koback does.
He's not a flawless player. His Relative Success Rate numbers are a pretty big mark against his ability as an instinctive, nuanced runner at the line of scrimmage. Price, Pacheco, McCormick, Jerome Ford, and Tyler Goodson were all similarly poor in that area. And all of them have ardent supporters of their sleeper status in 2022 rookie drafts.
Considering his complete profile, the historical prospects most similar to Koback are the following: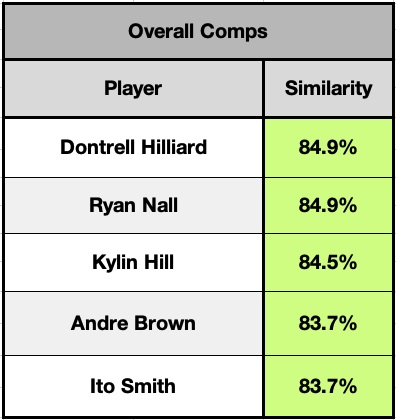 Dontrell Hilliard has been excellent in limited work in the NFL. And I remember hype around both Ito Smith and Kylin Hill during their respective times as prospects.
If you think Ford or Pierre Strong have enough size to make an impact in the NFL at 5-11 and sub-210 pounds, and if you like players with quality production profiles, explosive athleticism, and three-down skillsets, then you have to be interested in Bryant Koback. Outside of the top three or four players, his profile is as intriguing as that of any running back in this class. And no one seems to care. Get him on your taxi squads and see what happens.