Florida's Dameon Pierce was six pounds heavier at his Pro Day after weighing in at 218-pounds at the NFL Combine:
He ran his 4.59 40-yard dash and posted his 48th-percentile Burst Score at that lower weight. He then was really bad in the agility drills after cut szn ended.
Pierce is simply not a great athlete by NFL standards. He's not fast or explosive, and he's certainly not quick laterally. He is strong though. And he's built like a rock whether you want to say he's 218 or 224.
Based on the above measurables, the following historical prospects are Pierce's most similar from a purely physical standpoint: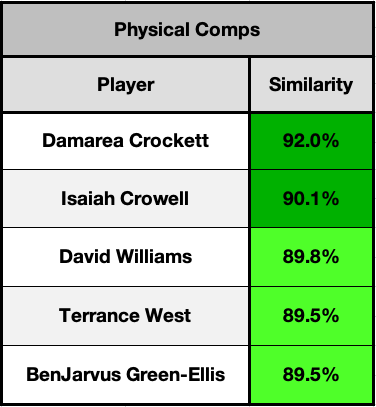 Isaiah Crowell was a productive and efficient pro runner for several years. He's just as slow and stiff as Pierce. Terrance West also was a contributor. BenJarvus Green-Ellis has multiple 1,000-yard rushing seasons on his resume, making this a decent (though boring) list of comps.
Production Profile
The big knock on Dameon Pierce is that he was never productive. He never handled more than 123 touches or gained more than 790 yards in a single season:
He was playing on good teams in the best conference in the country though. And the film grinders will tell you that he deserved more work than he got. Nonetheless, he never managed a true "breakout" season at Florida.
Given the seasonal Dominator Ratings he posted and the quality of teams he played for, the following historical prospects had the most similar college production profiles:
Josh Jacobs is a familiar example of the unproductive college back who was better than his volume numbers indicate.
Rushing Efficiency
Dameon Pierce may just fall in line with Josh Jacobs in that area. He was pretty good on a per-touch basis despite low usage. I did a full breakdown of his efficiency profile that can be found here. The following is a quick overview:
At first, I wasn't interested in Pierce. Even from an efficiency standpoint given his underwhelming Yards per Carry+ and Chunk Rate+ numbers. A guy who barely outdid his teammates on 7th-percentile volume wasn't exactly titillating my tastes.
Once I started using box count-adjusted metrics, he popped. The box counts faced were significantly higher than those faced by other Gator runners. This helps explain his uninspiring YPC+ mark. His Box-Adjusted Efficiency Rating is also fairly average. But much of that lower overall efficiency is due to not being a dynamic open-field runner.
Outside of his failure to extend runs deep into the secondary, he was elite on a down-to-down basis. After starting slow as a freshman in 2018, he posted seasonal Relative Success Rate marks that never dipped below the 89th-percentile: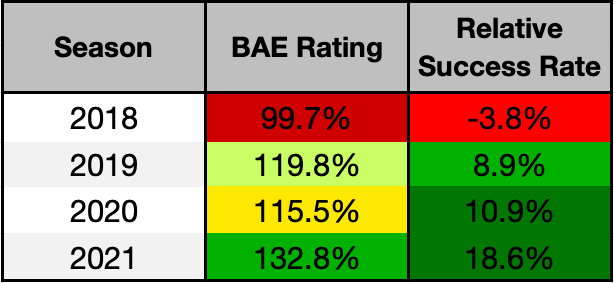 His 18.6-percent number from last year is the best single-season RSR I've come across yet. Even his BAE Rating was great in 2021. The numbers back up the high-level ability to navigate the line of scrimmage and produce positive outcomes.
Given his physical profile combined with the above metrics, his most similar historical prospects from a "pure runner" perspective are: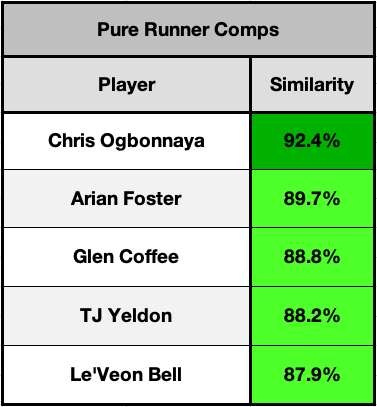 An unathletic dude with underwhelming production numbers can do much worse than comping closely to one of the most successful backs in that archetype in Arian Foster. There are plenty of JAGs sprinkled throughout Pierce's closest pure runner matches. But RB1 talents like Josh Jacobs, James Conner, and Eddie Lacy are also within the 85-percent similarity range.
Receiving Chops
Another area where Dameon Pierce shines despite low usage is as a receiver:
The volume totals and even market share numbers are not impressive here. Outside of James Cook, Pierce served a more dynamic role in the passing game than any RB in this class.
He's one of only nine backs in this class to be targeted further than one yard downfield on average. And he's one of only three backs in this class to line up out wide or in the slot on more than 20-percent of his passing-down snaps. Among backs invited to the Combine, Pierce and Cook are the only two who can claim both of those things.
Given that he was moved around the formation and targeted beyond the line of scrimmage so often, the degree of difficulty on Pierce's targets was relatively high. Despite that, he posted the 9th-highest True Catch Rate (looking only at catchable targets) in this class.
Given the above metrics, here are the historical prospects whose receiving profiles most closely resemble Pierce's: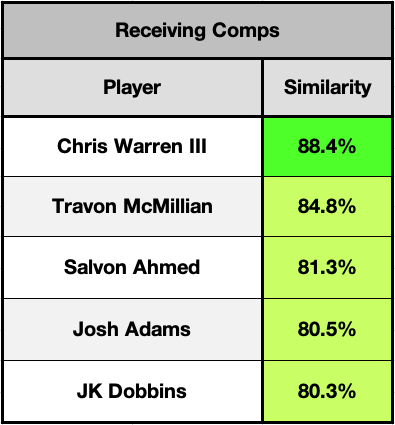 The closest matches on this list just haven't been good enough overall to make much noise in the NFL. Though J.K. Dobbins is an interesting point of comparison. He also is a shorter back who was used dynamically as a college receiver. But he's been deployed more as a pure rusher thus far in the NFL.
I believe Pierce can be a legitimate option in a professional passing game. However, there are no guarantees that a guy like him gets used that way. His ability to stonewall dudes as a pass-blocker is a point in his favor in that area.
Overall Profile
Despite a low-volume role at Florida, Dameon Pierce is one of the best running backs in this class. He has workhorse size, offers three-down utility, and was one of the most effective pure runners in the class. This despite an athletic profile that doesn't offer much big-play juice.
The historical prospects whose complete profiles were most like Pierce's are the following: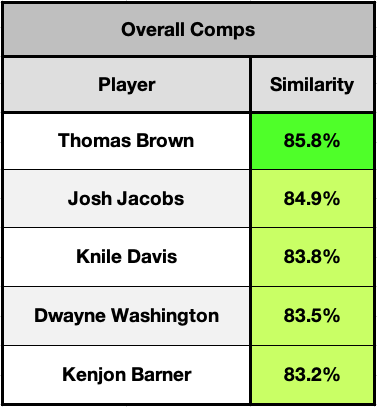 I think Josh Jacobs is a great overall comp. And if Pierce had gone to Alabama instead of Florida (he was recruited and offered by both schools), who knows what his perception among NFL personnel departments would be now.
Draft capital will determine where his rookie draft ADP settles in at. It could be anywhere from the early second round to the mid-third. Even if he's seemingly buried behind another talented back on whatever depth chart he ends up on, a Devonta Freeman-esque seizure of power is within Pierce's range of outcomes given his complete skillset.