Instead of running, Texas A&M's Isaiah Spiller spent his time at the Combine plotting how he was going to slip scouts $20 bills at his Pro Day in exchange for pumping up his 40 time. However, the truth always prevails:
Spiller measured in with good size and decent lateral quickness in the one agility drill he opted into. But his jumps were bad and he was slow. His actual top speed is even worse than his 40-time would suggest. He could not exceed an Elijah Holyfield-ian pace on his flying 20.
Based on the above measurables, the following historical prospects are Spiller's most similar from a purely physical standpoint: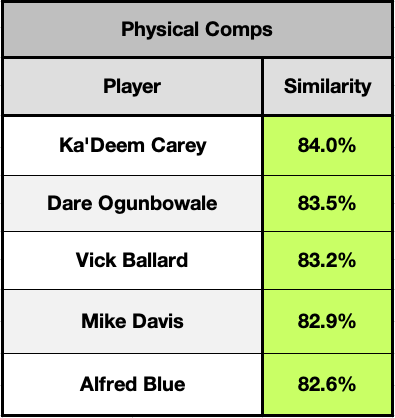 Pretty much all of these guys have at least been contributors in the NFL. And it's true that many running backs have been successful without boasting top-end athleticism.
Production Profile
Isaiah Spiller was a quality player on good teams throughout his college career:
He had an especially impressive true freshman season, posting a near-elite Dominator Rating on a quality SEC squad. He broke out a younger age than nearly every RB drafted since 2007, excepting only Darren McFadden and Jamaal Williams.
His numbers plateaued a bit after that first year, but Spiller was a quality producer in every season.
Given the seasonal Dominator Ratings he posted and the quality of teams he played for, the following historical prospects had the most similar college production profiles: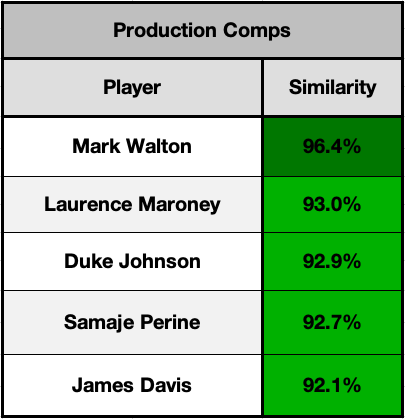 All of the above guys played on good teams in Power 5 conferences. Like Spiller, several of them also shared time with other quality running backs: Laurence Maroney with Marion Barber, Samaje Perine with Joe Mixon, and James Davis with C.J. Spiller.
Rushing Efficiency
Consistent with his poor athletic profile, Isaiah Spiller was not an efficient runner of the football in college. A deep dive into his efficiency profile can be found here, but the following is a quick overview:
Relative to talented teammates, Spiller was historically inefficient among running back prospects who got lead-back volume in college.
He averaged fewer yards per carry and ripped off chunk gains (of 10 yards or more) less often than the other backs at A&M while seeing box counts that were significantly lighter than those they ran against. In metrics that adjust rushing performance for the box counts a player faces relative to his teammates, Spiller was abysmal.
Even when Devon Achane (the other main Aggie runner and a super dynamic player) was not on the team back in 2019, Spiller was very bad relative to his teammates:

Spiller is a good tackle-breaker who looks nice on film. But his on-field success did not match the aesthetic quality of his play in college.
Given his physical profile in combination with the above metrics, the most similar historical prospects to Spiller from a "pure runner" perspective are: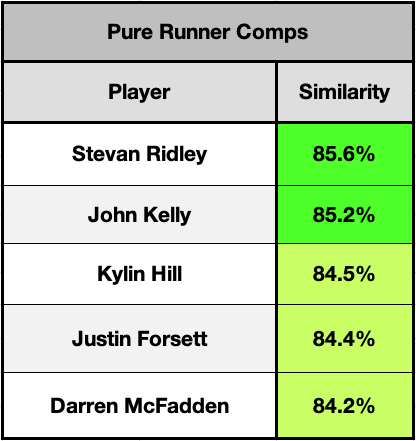 Stevan Ridley, Justin Forsett, and Darren McFadden have all posted 1,000-yard rushing seasons in the NFL. And being an ineffective college runner with poor athleticism does not automatically destine a player for bust status. Kylin Hill is a good parallel for Spiller. He was a productive back with good film at Mississippi State who also disappointed in his transition to the NFL.
Receiving Chops
Isaiah Spiller was better as a receiver than he was as a runner at A&M. But even the efficiency numbers here leave something to be desired:
Spiller checks the box of having been a high-volume pass-catcher with at least 20 receptions in every season he played. However, the ancillary metrics are not as encouraging.
With a True Catch Rate ranking No. 25 out of 38 running backs in this rookie class (and No. 10 out of 13 among rookie running backs with aDOTs of at least 0.5), Spiller was not hauling in passes at an impressive rate. Combined with poor YAC per reception numbers, that means his overall efficiency on a per-target and per-reception basis was bad.
Given the above metrics, here are the historical prospects whose receiving profiles most closely resemble Spiller's:
Jalen Richard has been a productive but unspectacular satellite back in the NFL. The rest of these guys are average receivers at best. If he does receive a lead-back role, I'd imagine Spiller being deployed in the passing game similarly to David Montgomery. He's fine there, but it's likely whatever team he is on has a better option on third downs.
Overall Profile
Isaiah Spiller was a solid college producer with quality receptions totals and workhorse. But outside his sex appeal on film, that's where the positives end. He wasn't efficient as a runner. He wasn't efficient as a receiver. And we can't even put lipstick on the pig in the form of high-end athleticism.
All that can prevent him dropping out of the first round of 2022 rookie drafts is real-life NFL Draft capital. All that can save him from free-falling out of Day 2 are the film grinders in NFL front offices.
I'd imagine he won't make it out of round three. But it's important to keep in mind what sort of player we're dealing with outside the context of draft capital. Given the disparity in their talent profiles independent of what the NFL thought of them, third round Darrynton Evans should not carry the same performance expectations in fantasy football as third round David Johnson.
With that in mind, the historical prospects whose complete profiles were most like Spiller's are the following: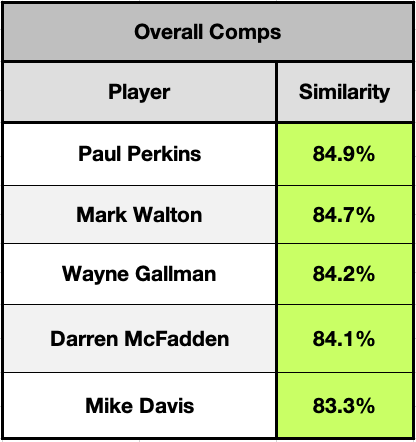 Darren McFadden just keeps popping up in these comps lists, and the similarities between him and Spiller are striking. They both played on quality SEC teams, broke out as 18-year olds with August birthdays, posted 8.9-percent Target Shares, averaged 7.9 yards per reception, played with talented teammates including a super-dynamic second banana (Felix Jones was McFadden's Devon Achane), and averaged a yard per carry less than their collective teammates did. Their profiles diverge when you consider that McFadden ran a 4.33 40-yard dash, recorded an 80th-percentile Burst Score with a 93rd-percentile Agility Score, and was taken with the No. 4 overall pick in the NFL Draft.
He's a much more similar player to the other guys on this comps list, a collection of textbook JAGs.
Last Word
Isaiah Spiller is falling like a rock after faceplanting in athletic testing. But he shouldn't have been highly regarded even prior to that. Don't let the allure of opportunity tempt you into saving a bad player from that free-fall in rookie drafts after he goes in the third round later this month.
It's probably going to happen in the late first or early second in a lot of dynasty leagues. At those prices, you have to let someone else be the mark.