He wasn't Breece Hall. But USC's Keaontay Ingram did well for himself in the measurement and testing portion of this pre-Draft cycle:

At nearly 6-feet tall and over 220-pounds, Ingram is built like a workhorse NFL back. While he's not especially quick laterally, he checks the other athleticism boxes by offering decent speed and explosiveness; with a nice performance on the bench for good measure.
Based on the above measurables, the following historical prospects are Ingram's most similar from an athletic and overall physical standpoint:
Kenneth Gainwell plus 20-pounds would be a pretty enticing physical specimen. While Ingram isn't an elite athlete, he shouldn't have a problem in that area in the NFL.
Production Profile
Keaontay Ingram was a key contributor at both USC and Texas, but he never had a true breakout season:
Ingram's senior season was his most productive on a per-game volume stats basis. Though his underclassman years at Texas were more impressive from an age-adjusted perspective.
Bijan Robinson joined the Longhorns the following year and Ingram promptly got the fuck out of town.
Given the Dominator Ratings he posted and the quality of teams he played for, the following historical prospects had the most similar seasonal numbers as well as complete college production profiles:
Year-by-year and on aggregate, Ingram didn't have a standout career. Joseph Addai and Chris Carson being on these lists show that producers like him have gone on to NFL success.
Rushing Efficiency
I wrote a full breakdown of Keaontay Ingram's rushing efficiency numbers that can be found here. The following is a quick overview:

On subdued volume and relative to talented teammates, he was one of the most efficient runners in this class despite not offering much juice in the open field.
Ingram is a good tackle-breaker. Because he contributes in the passing game, he doesn't generally run into heavy boxes. Given the boxes he did see, the average Ingram carry was worth almost 30-percent more than the output of a given non-Ingram carry at Texas and USC during his career. His career Box-Adjusted Efficiency Rating is the fourth-highest in this class. It also exceeds the career marks of guys like Jonathan Taylor, Najee Harris, and Travis Etienne.
Outside of a terrible junior year, Ingram was consistently a positive contributor on the ground, especially so last season:

Ingram's final season BAE Rating and Relative Success Rate marks were both higher than Kenneth Walker's 2021 numbers.
It's hard to count on Ingram consistently churning out positive yardage given his poor RSR marks from 2019 and 2020. And his 47th-percentile career number splits the difference pretty well between his strongest and weakest campaigns.
Given his physical profile in combination with the above metrics, the most similar historical prospects to Ingram from a "pure runner" perspective are: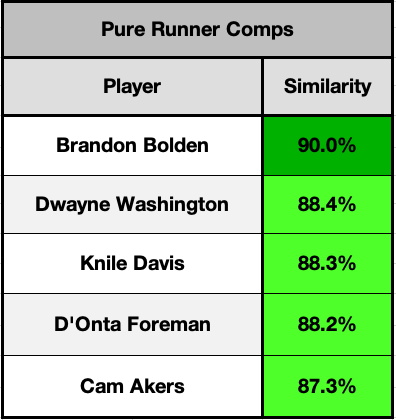 Quite the range of outcomes is represented in this comps list. But every player here has been an NFL contributor in some capacity.
Receiving Chops
A big part of Keaontay Ingram's appeal is his ability to provide value on all three downs:
While never a huge part of his teams' passing games, Ingram was a high-volume pass-catcher. Especially in the context of his overall role.
His receiving skillset is pretty rare for a guy his size. The average Combine weight for a running back who lined up out wide or in the slot at least 10-percent of the time in college is 208-pounds. Ingram is more than 10-pounds heavier than that.
Where he doesn't impress as much is in his overall efficiency through the air. He's able to haul in passes cleanly, but he doesn't often make much happen after the catch. Even though he's generally catching balls behind the line of scrimmage.
Given the above metrics, here are the historical prospects whose receiving profiles most closely resemble Ingram's: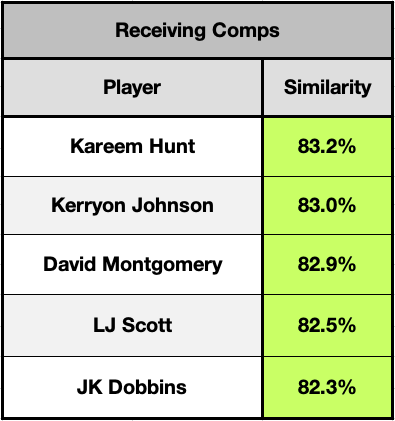 Evaluating the receiving ability of running backs is difficult. The above players filled similar receiving roles in college. Though Kareem Hunt is obviously a much different pass-catcher in the NFL than Kerryon Johnson was. At his best, Ingram will be a versatile receiving option at the next level. At the least, he won't be a liability on third downs.
Overall Profile
Keaontay Ingram is a similar prospect to Dameon Pierce in that he was an effective per-touch player with three-down ability who was rarely used in something other than a committee role. I think the two are different stylistic runners. Ingram offers less dynamism as a receiver than Pierce does, but they're much the same in a general way.
Regardless, Ingram is one of the few backs in this class who offers workhorse size, pass-catching chops, and an ability to run the ball efficiently.
The following comps lists give a full-picture look in two areas. The "raw traits" comp takes production out of the equation and just looks at players who are most similar to Ingram in a vacuum, based on physical attributes as well as on-field efficiency. The overall comp considers those same things while also taking production into account: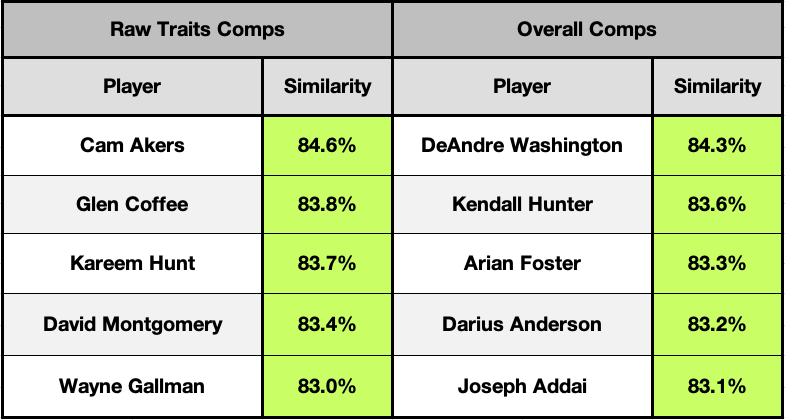 I want to see high-end NFL players show up as close matches to my running back prospects. Ingram has four RB1-level producers (as well as Cam Akers) across these comparisons.
Overall, I think Ingram exists somewhere adjacent to the Kareem Hunt–David Montgomery family tree of running backs. He should be at least be an Alexander Mattison-level NFL player. He's a full skillset guy who's available in the late-second or even third rounds of rookie drafts. I'm smashing at that price.