Most of my articles are full of metrics and percentile ranks and everything else that goes into my evaluations of prospects. This one is going to be different. This article is a timestamped receipt of where my head is at on these rookie running backs at a moment in time. Before we learn what the NFL is willing to invest in them and where they will play their professional ball. This article is simply a rankings dump, accompanied by whatever commentary I deem necessary.
I have collected data on 42 running backs in this year's draft class. The following is a somewhat-tiered ranking based on how I view those 42 players from a pure talent evaluation standpoint. That means I'm not projecting anything about where I think these players will be drafted. And because their eventual (and as of now, their presumed) draft capital matters to how we should view their potential fantasy stock, it also means that I'm not advising you to take them in this order in a rookie draft. It simply means that I believe that Player X is better than Player Y in a vacuum. Regardless of what we think the NFL thinks about them.
Also listed with the players are their composite scores in various categories; to give a general idea of how my process views them. Composite scores are generated using a special soup of percentile ranks from various inputs and are therefore on a 0-100 scale.
Those scores are in the Production, Athleticism, Rushing Efficiency, Receiving, and Workhorse categories. Most of them are self-explanatory. The Workhorse Score takes into account a player's size and college workload to indicate how suitable they are for high-level volume at the next level.
Without further ado, from worst to best:
Tier 7: An alphabetical list of the guys I'm not
interested in
Greg Bell, San Diego State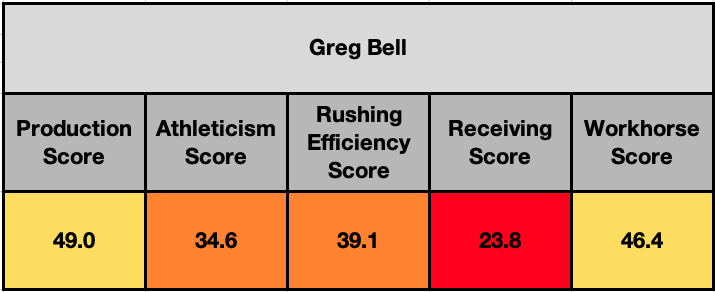 Snoop Conner, Ole Miss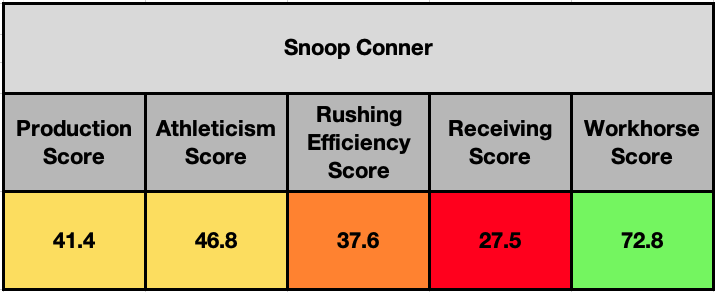 Jashaun Corbin, Florida State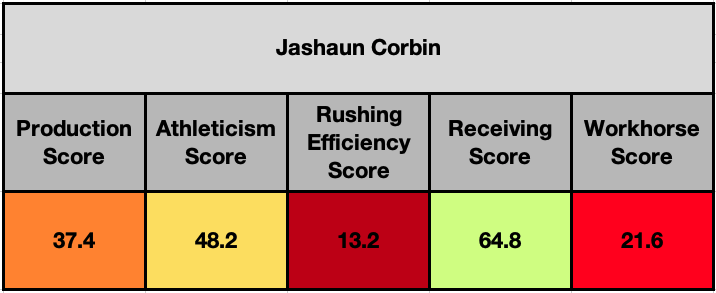 Tyrion Davis-Price, LSU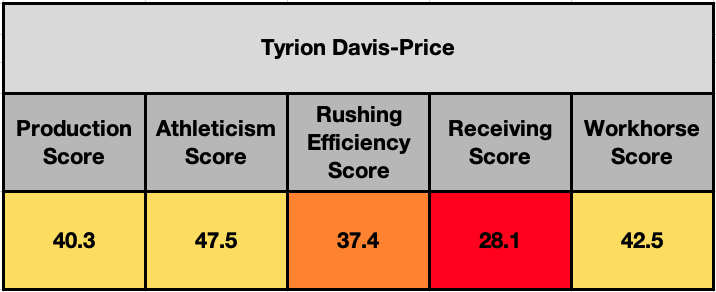 Trestan Ebner, Baylor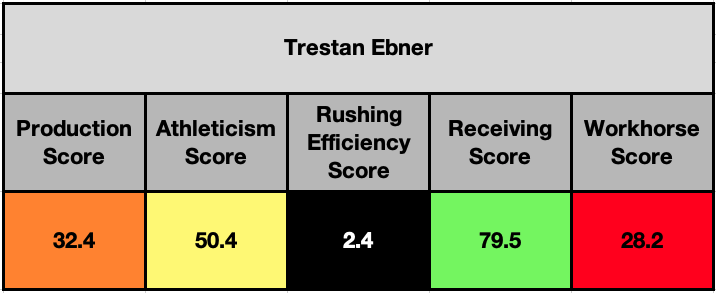 Cam'Ron Harris, Miami (FL)
Quay Holmes, East Tennessee State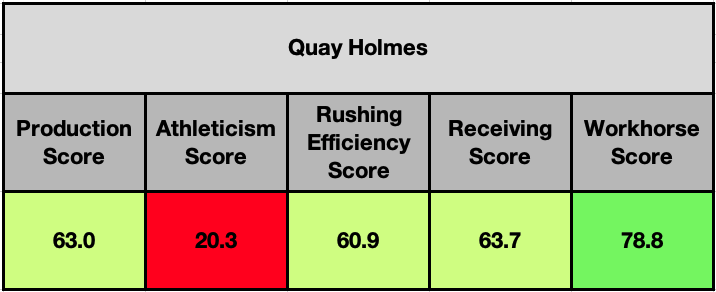 D'Vonte Price, FIU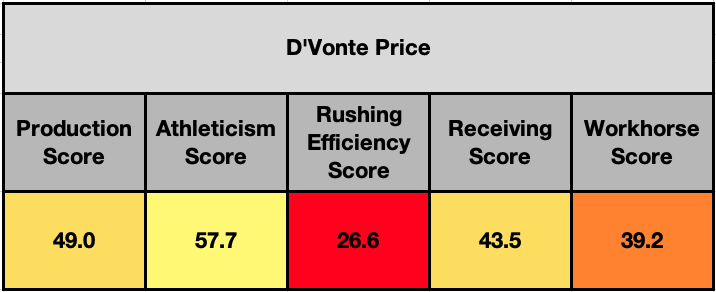 Master Teague, Ohio State
C.J. Verdell, Oregon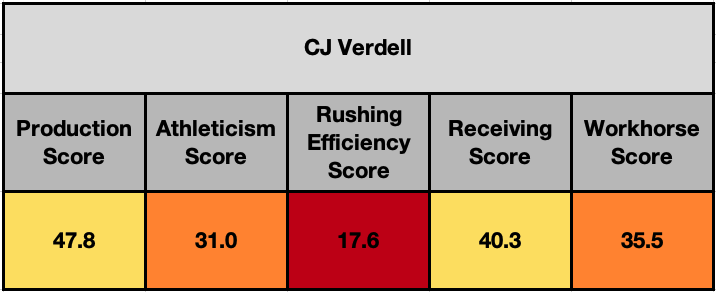 Tier 6: Guys who are barely interesting
RB32 – Isiah Pacheco, Rutgers
Isiah Pacheco is interesting because he's big, fast, and was hypothetically hamstrung by a terrible offensive environment at Rutgers. Even in the context of that, however, he was never particularly efficient on the ground relative to his teammates. He also doesn't catch passes. He's a Speed Score hero who doesn't play up to his athletic gifts.
RB31 – Sincere McCormick, UTSA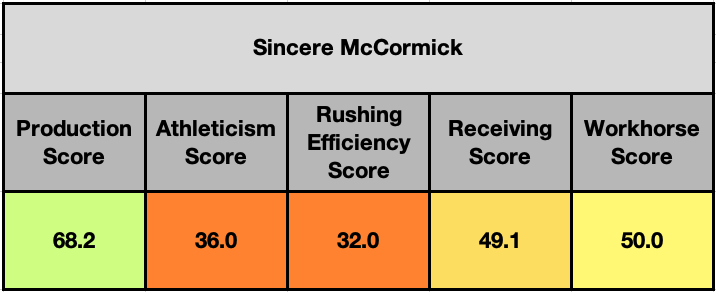 Sincere McCormick is interesting because he's one of the more productive small school backs to come out in recent years. But he's small, not particularly athletic, an average-at-best receiver, and was never very efficient as a runner.
RB30 – Jaylen Warren, Oklahoma State
Jaylen Warren is interesting because he breaks a lot of tackles, is dynamic in the open field, and was very productive as an upperclassman at Oklahoma State in the last two seasons. On the other hand, he's undersized and not great in the passing game.
Tier 5: Players who bring something good to the table
RB29 – Ty Chandler, North Carolina
Ty Chandler is a popular sleeper in this class because he's a sneaky good receiver and can absolutely fly. The problem is that he never converted his 4.38 speed into impressive on-field efficiency. He's also very skinny for an NFL back at 5-11 and 204-pounds.
RB28 – Raheem Blackshear, Virginia Tech
Raheem Blackshear is getting no buzz in this class. I'm not sure what makes him materially worse than a lot of these other satellite backs. He's not a good runner at all. But he has excellent lateral agility, has multiple seasons of at least 80th-percentile Dominator Ratings on his resumé, and he caught 123 balls on good efficiency numbers.
RB27 – Ronnie Rivers, Fresno State
Ronnie Rivers is pretty JAGy, but he also doesn't have many holes in his profile. It's not a good look that he spent five years at Fresno State after breaking out as a sophomore. Still, he did break out as a sophomore. He was decently efficient as both a runner and receiver and has solid athleticism.
RB26 – Jerrion Ealy, Ole Miss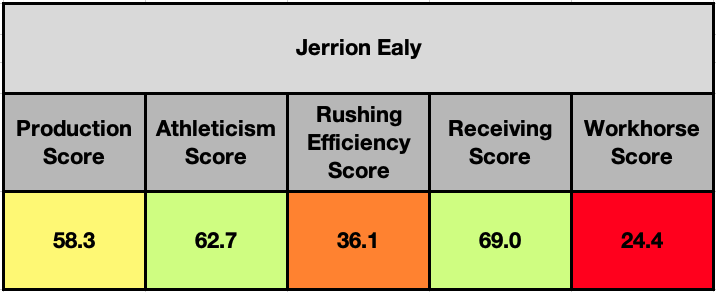 Jerrion Ealy is a tackle-breaking machine, which is sort of strange for a dude who only weighs 189-pounds. Nonetheless, he's dynamic out in space, has 5-star pedigree, and is a nice athlete. The concern is that he wasn't very good on the ground and never managed to take hold of a large share of the Ole Miss offense.
RB25 – Kyren Williams, Notre Dame
Kyren Williams has been left for dead after weighing in at the Combine at 194-pounds and faceplanting in athletic testing. He's not the Austin Ekeler or Aaron Jones-level guy that people wanted him to be. He's still one of the best overall producers and most prolific satellite backs in this class. Theo Riddick-type output is still in his range of outcomes.
RB24 – Max Borghi, Washington State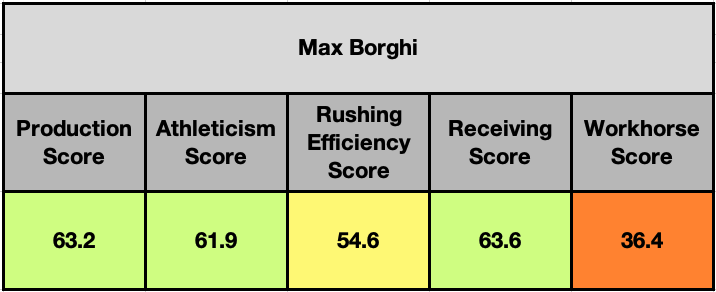 I am not at all confident that Max Borghi is a good player. But if we can take the per-touch numbers he posted in wonky offensive systems at face value, then he checks a lot of boxes. And at 207-pounds, his size gives him an advantage over the other pass-catching backs in this class.
Tier 4: Maybe more than JAGs
RB23 – Brian Robinson, Alabama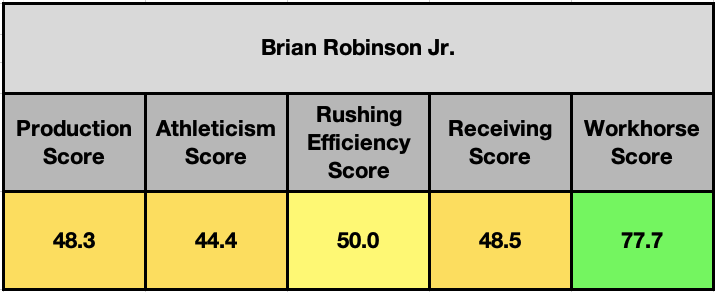 Brian Robinson is a textbook JAG, but not in a totally bad way. He has size. He's not a terrible receiver. And he's consistently going to get what's blocked and produce positive outcomes on the ground. The NFL is going to love him because he want to Alabama. But there's not much else to get excited about here.
RB22 – Tyler Badie, Missouri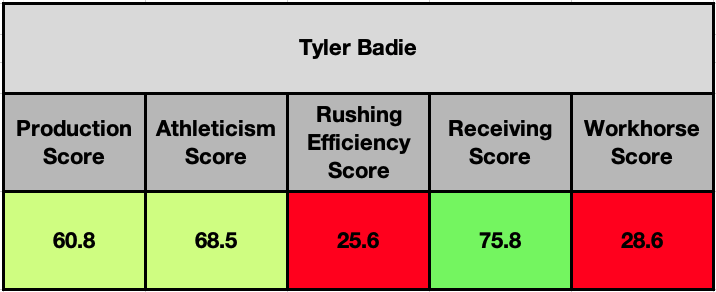 Tyler Badie is like if Kyren Williams played at a shittier school but was athletic. I don't think he has much early-down utility. But he has as good a chance of making an impact as a team's designated third-down specialist as anyone in this class.
RB21 – Tyler Goodson, Iowa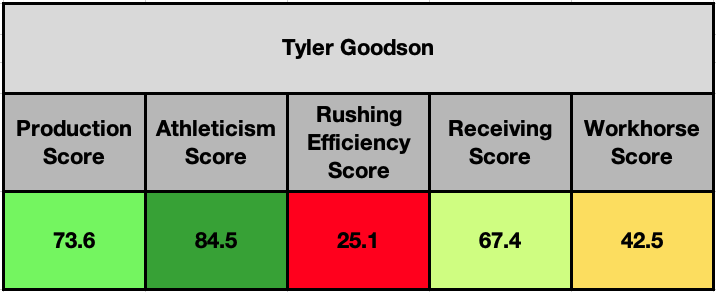 Tyler Goodson is like if Tyler Badie broke out as a freshman and was a little bit more athletic. He was forced to do a lot of between-the-tackles work into heavy boxes at Iowa. Not the optimal deployment for a player who weighs 197-pounds. There's a chance he's better than his rushing efficiency numbers suggest because of that. And I'm fairly certain he's a quality receiver.
RB20 – Jerome Ford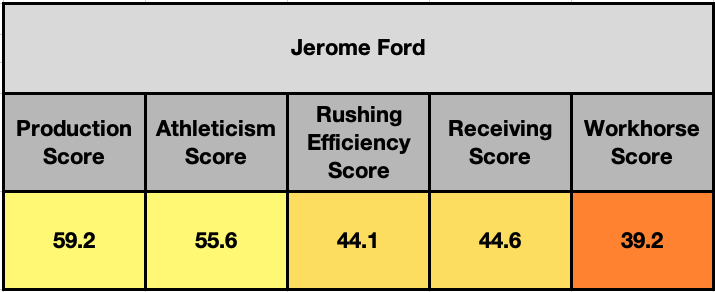 I've been lower than consensus on Jerome Ford throughout this offseason, but I'm coming around a bit. He wasn't used much as a receiver, but he was efficient on downfield targets when he was used. And I think he's better there than his volume numbers suggest. He's dynamic in the open field but pretty boom/bust as a runner overall. Guys with his body type don't often see much more than complementary roles.
RB19 – Isaiah Spiller, Texas A&M
Isaiah Spiller was a precocious producer in the SEC and offers three-down utility as a guy with workhorse size and solid receiving chops. The sticking point is that he was historically inefficient on the ground and has the blah athletic profile to back up that lack of effectiveness as a ball-carrier. He's going to receive a solid role somewhere. I think it's likely that he makes the least of it.
Tier 3: Guys that I actively like
RB18 – Kennedy Brooks, Oklahoma
Kennedy Brooks is like if Ronald Jones was slow, but in a good way. He's a bit undersized and doesn't offer much as a pass-catcher. But he's one of the most impressive pure runners in this class.
RB17 – Abram Smith, Baylor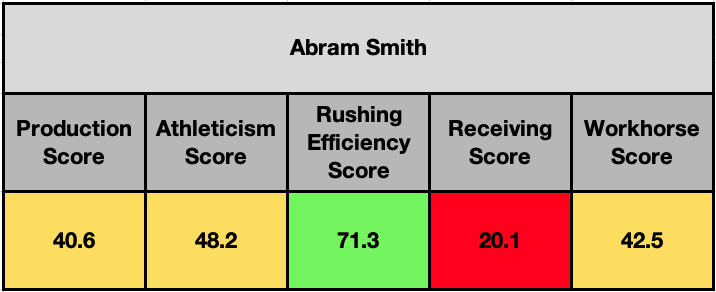 Abram Smith might never be a thing in the NFL, but he was awesome at Baylor last season. His efficiency numbers are top tier despite being forced to run into some of the heaviest boxes of any back in the class. He's not a receiver and took a bit of an unconventional path to the NFL. Though his background as a linebacker might help him stick around on a roster.
RB16 – Hassan Haskins, Michigan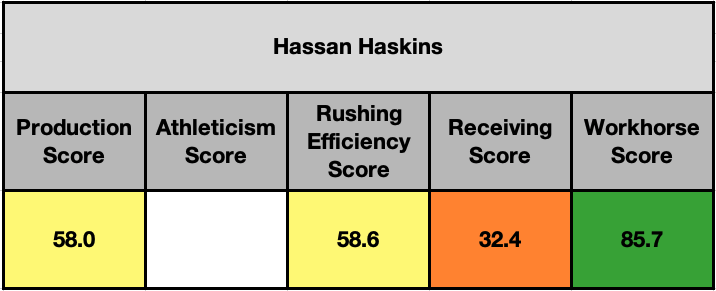 It's unfortunate that we don't have athletic testing numbers for Hassan Haskins because he was an absolute beast on the ground at Michigan. He's the guy who ran Zach Charbonnet out of town. And his 201.6-percent Box-Adjusted Efficiency Rating on a shortened schedule in 2020 is the top mark among lead backs in the Big Ten in the last four years.
RB15 – Pierre Strong, South Dakota State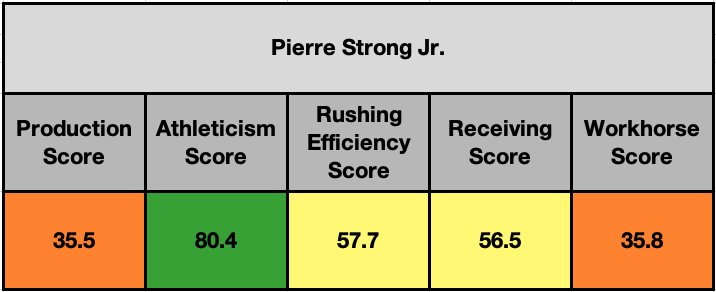 Pierre Strong is one of the best athletes in this group. He translated those talents into excellent per-carry efficiency at the FCS level. He's also a decent pass-catcher, but his 5-11 and 202-pound frame probably caps him out as a committee back in the NFL.
RB14 – Zonovan Knight, NC State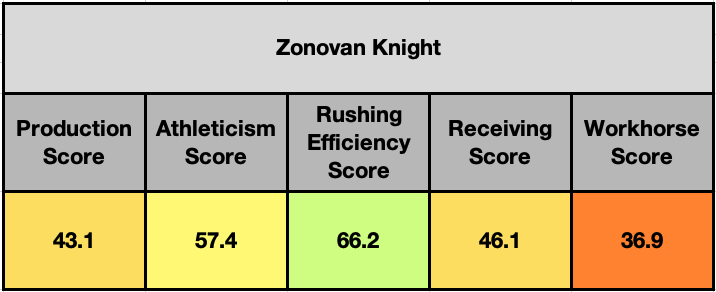 I can't tell if Zonovan Knight is going under the radar or is a sexy sleeper in this class. The numbers suggest he's one of the most well-rounded pure runners among the rookies. He's another one of these slightly undersized guys at only 209-pounds. But he's an excellent tackle-breaker with elite agility who also catches the ball a little bit.
RB13 – Bryant Koback, Toledo
Bryant Koback is almost assuredly more athlete than nuanced runner. Outside of a terrible 2020 season, his overall efficiency numbers are much better than that composite score suggests. He's a great athlete with explosive ability in the open field. He's also one of the few 205-plus-pound backs in this class who was a legitimate part of his team's passing game.
RB12 – Leddie Brown, West Virginia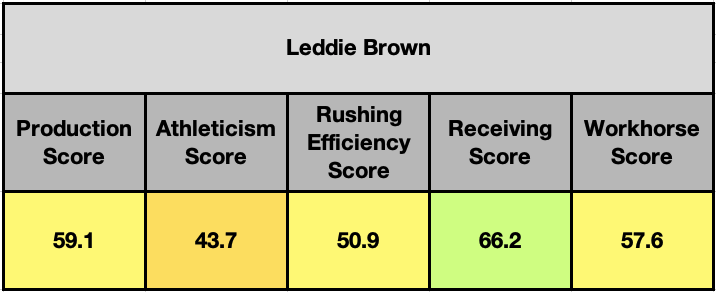 Leddie Brown is a super boring guy, but he's just solid everywhere. Among rookie running backs, only he and Breece Hall posted two straight seasons with Dominator Ratings of at least 30.0-percent at FBS programs. Though he doesn't have much open-field juice, Brown is a steady, efficient runner with 86 receptions to his name. At 213-pounds, he's a three-down player.
RB11 – Zamir White, Georgia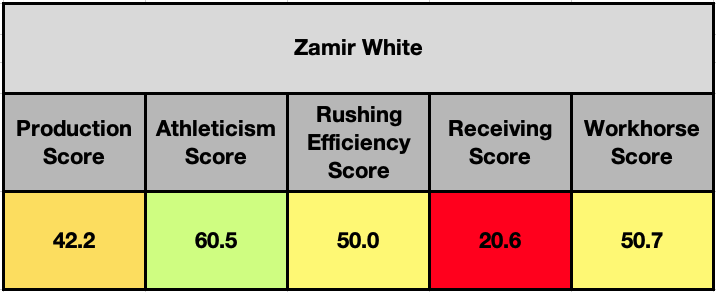 Zamir White runs 4.40 40-yard dash and has a reputation as a big-play guy. That sort of thing did not show up in his on-field performance at all. He's really much more of a grinder, which is not a bad thing, and he was effective in that role. He does offer almost nothing in the receiving game, but has good size and theoretically untapped athleticism. At the very least, he'll be a quality two-down pounder as part of a committee.
RB10 – ZaQuandre White, South Carolina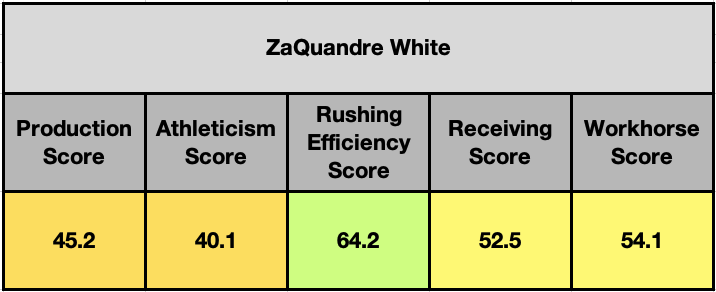 ZaQuandre White is probably the weirdest running back in this class, and he has an incredibly low floor. After testing as a freak athlete in high school, he underwhelmed at his Pro Day while allegedly still dealing with an ankle injury. On the field, though, he's been fantastic in limited work. He was super efficient relative to really talented teammates at South Carolina. And was especially impressive as a tackle-breaker and as an open-field runner. He's got good size and was decently involved as a receiver. His production numbers at the non-FBS level are higher than those posted by Alvin Kamara, Chris Carson, and Antonio Gibson during their respective stints at community colleges.
RB9 – James Cook, Georgia
James Cook is easily the most dynamic receiver among this year's running backs, is a fantastic big-play runner, and has explosive athleticism to back those things up. He's small and skinny, though, so it's likely that he'll be limited to a satellite back or hybrid WR/RB role. I see him as a Chris Thompson-type player with upside for more with a creative coach in the right system.
Tier 2: Flawed but legitimately exciting
RB8 – Julius Chestnut, Sacred Heart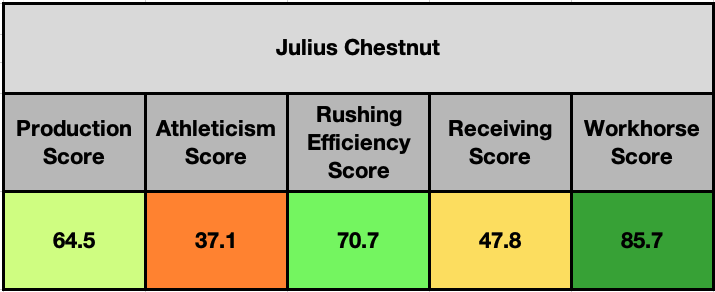 Julius Chestnut played against a low level of competition at Sacred Heart, but he did about all we could ask for from a player in that situation. He was more efficient on the ground than all the notable small school guys that come to mind (Austin Ekeler, Danny Woodhead, James Robinson, etc.), he posted 45.8-percent and 60.1-percent Dominator Ratings in back-to-back seasons, and he was uber efficient on limited work as a receiver. I've seen reported 40-yard dash times of 4.47 and 4.62. But at 5-11 and 228-pounds, anything in that range would be just fine for an NFL back.
RB7 – Tyler Allgeier, BYU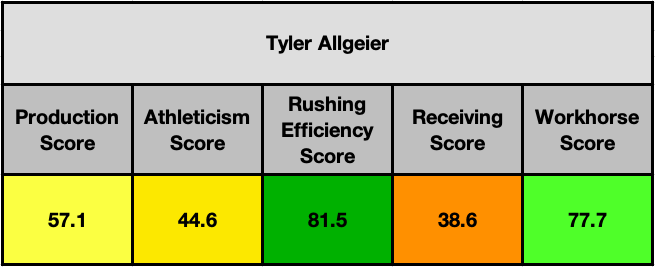 Tyler Allgeier is like if Julius Chestnut played at an FBS school. He's nearly 5-11 and 224-pounds, he runs 4.60 40-yard dash, and he boasts the best team-relative rushing efficiency numbers of any back in this class. He's fairly limited as a receiver, but as a former walk-on and linebacker, I think he's got enough dawg in him that he'll get a chance to make an impact in an NFL backfield.
RB6 – Keaontay Ingram, USC
Keaontay Ingram has one of the best combinations of size, athleticism, receiving ability, and efficient running of any rookie running back. He belongs to the Kareem Hunt family tree of three-down tackle-breakers with good size. I wouldn't be shocked to see him in the starting lineup of dynasty rosters within the next two years.
RB5 – Kevin Harris, South Carolina
Without hyperbole, Kevin Harris has a legitimate claim to having been the best sophomore running back in the history of the SEC. He posted a 99th-percentile Dominator Rating and an 89th-percentile Box-Adjusted Efficiency Rating that season before breaking his back and having surgery in the offseason. He was clearly hampered last year, but the 95th-percentile Relative Success Rate he posted in 2021 shows that he still has the instincts that made him an effective player in 2020. He's not much of a receiver, but he's got explosive athleticism at nearly 5-10 and 222-pounds. If he's healthy, the only 2022 back I'd say is definitely a better pure runner is Kenneth Walker.
RB4 – Rachaad White, Arizona State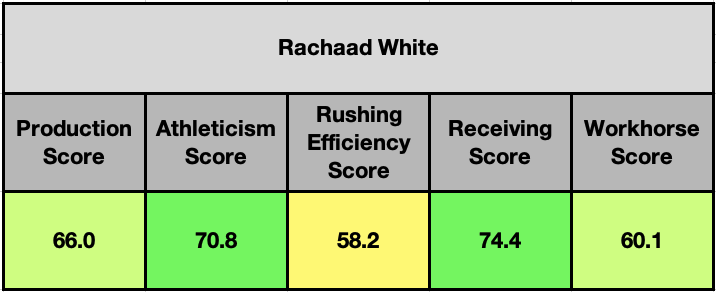 Rachaad White is a full skillset guy with a 215-pound frame and high-end athleticism. He was productive at the community college level before blowing up at Arizona State in 2020. And he was very efficient relative to his Sun Devil teammates. The only concern I have is that he's a pretty boom/bust runner that I'm not totally sold on as a nuanced between-the-tackles guy. We have seen players like David Johnson succeed in that archetype before. Some reasonable comps on the lower end of that spectrum are Kenyan Drake and Tony Pollard.
RB3 – Dameon Pierce, Florida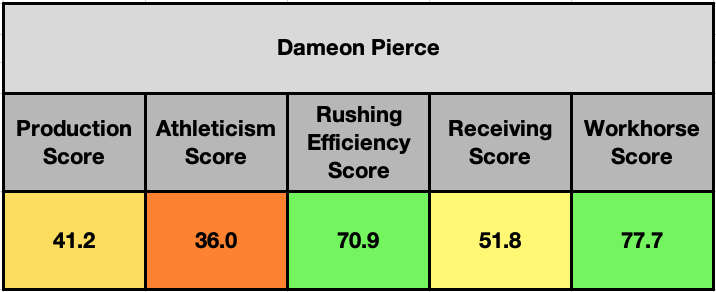 It's almost a meme at this point to point out that Dameon Pierce was underutilized in college, but he really was one of the most impressive backs in this class on a per-touch basis despite never having a large role at Florida. His dynamic usage as a receiver rivals that of James Cook, and Pierce was both an efficient and consistent runner relative to talented Gator teammates. He's the most densely built guy among 2022 backs. A Devonta Freeman career arc is not out of the question given his talent.
RB2 – Kenneth Walker, Michigan State
There should be no questions about Kenneth Walker's being the best pure runner in this class. He breaks tackles, rips off breakaway runs, consistently churns out positive yards, and is super efficient. The concerns are that he wasn't used much as a pass-catcher and wasn't effective when he was used; which is more concerning at 211-pounds than it is for other non-receivers who are 220-plus-pounds. That said, I think Walker is just big enough to be a high-volume two-down back even if he never develops as a receiver.
Tier 1: The only choice
RB1 — Breece Hall, Iowa State
Breece Hall is easily the RB1 in this class despite not being excellent in any one area on the field. He was productive, he's big and athletic, he's a decent receiver, and he was an efficient big-play runner in a Power 5 conference. I'm unwilling to jump to the same "perfect prospect" type conclusions that many are given that his rushing efficiency profile is fairly boom/bust. The numbers show that he was dynamic in the open field and efficient on the aggregate, but not consistent at churning out positive yards on a down-to-down basis. While not infallible, he's certainly a box-checking prospect who should be very productive in the NFL.